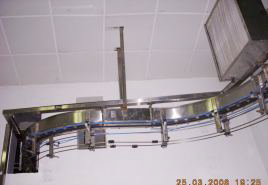 Advantages of Spiral Conveyors and their Benefits to the Beverage Industry : Operating flexibility, greater throughput, and high dependability are all priorities for the beverage sector. Many plants are open 24 hours a day, seven days a week, with very little downtime. After all, a downward trend indicates a loss in output.
Spiral Conveyors convey products vertically while meeting all of the requirements listed above. The Unit Load – or Case Spiral – version conveys cases, trays, packs, and other sorts of unitized loads, while the Bulk Flow version conveys full or empty bottles and cans in mass or single file.
Both models have the same feature: they allow for an elevation adjustment in a relatively small footprint. As a result, they take up less area on the floor than traditional incline/ decline or Alpine conveyors and require fewer motors and controls. Most beverage facilities have limited floor space, and the space reductions make it viable to expand within an existing facility. Spirals can also be used to assist reduce the size of new structures. Spiral conveyors also have a lot of versatility in terms of where the in-feed and out-feed tangents are located, making them easier to accommodate into tight production line layouts.
Read More : Know Everything About Bulk Material Handling Systems
When compared to other methods of height change, spirals take up less floor space.
Modern Spiral Conveyors have a relatively simple design and few moving parts, making them simple to operate and maintain. They're also incredibly adaptable, allowing them to accommodate a wide range of product sizes without requiring any adjustments or replacement parts, minimizing product turnover time.
Spiral of Unit Loads Conveyors are also significantly faster than elevators and lifts. Conveyors adjacent to it easily butt up to the spiral's end, ensuring a seamless transfer. Case elevators are much slower, require large gaps between loads, and or staging conveyors and controls, and require much more maintenance. Spirals handle products in a continuous flow up to 200 feet per minute, whereas case elevators are much slower, require large gaps between loads, and or staging conveyors and controls, and require much more maintenance.
Unit Load Spirals are commonly utilized in packing lines that require an elevation change, such as end of line and palletizing activities. A Spiral can also be set up to work with many packing lines. Multiple in-feeds at different heights are available on some spirals. Perfect for choosing orders at multiple levels.
To avoid land-locking operations, spirals are widely utilized to create a forklift aisle between packaging lines. Within the same structure, certain versions can have two separate independently operated tracks, which is the ultimate space saver. It is also feasible to infeed or discharge at different elevations with this dual channel layout.
Read More : Everything You Need To Know About Submerged Scraper Conveyor
Aisles and access corridors can be created with spirals.
Products are transported up or down in a continuous single file or mass flow at a pace of up to 2,000 units per minute with Mass Flow Spirals. The Mass Flow Spiral has a somewhat modified design that allows bulk materials to flow on and off the spiral effortlessly.
They're ideal for transporting empty bottles from a high-level depalletizer to a floor-level filling process, or full bottles from the bottling line to pasteurization or a different elevation packing line. Alpine Conveyors are no longer required thanks to Mass Flow Spirals. Side gripper conveyors can also be replaced with single file Mass Flow Spirals. Unlike side grippers, Mass Flow spirals don't need to be adjusted for varied load sizes or shapes, and they don't need to be replaced.
Mass Flow Spirals move a large number of items at once.
Spirals are extremely productive devices. They use a small amount of power and just require one drive. This saves a lot of time and money when it comes to installation and integration. The majority of spirals arrive in one piece. They simply require standing, anchoring, and wiring. A spiral may often be erected in a single day.
Change is a constant in the beverage sector. As products and seasonal demands dictate, production lines fluctuate. Spirals can be adjusted to accommodate variations in arrangement and even height in some variants. Depending on the required improvements, this can sometimes be done in the field in a short period of time for a fraction of the cost of a new spiral, extending the life of the initial investment.
Spiral Conveyors are quickly becoming the industry standard in food and beverage, consumer packaged products, and warehouse operations throughout the world, thanks to their space reductions, energy savings, cheap maintenance, and high uptime.