India
Call us: +91-22 4333 3200 / 01 / 02
hilden.info@gmail.com
Marol MIDC Industry Estate, Andheri East, Mumbai,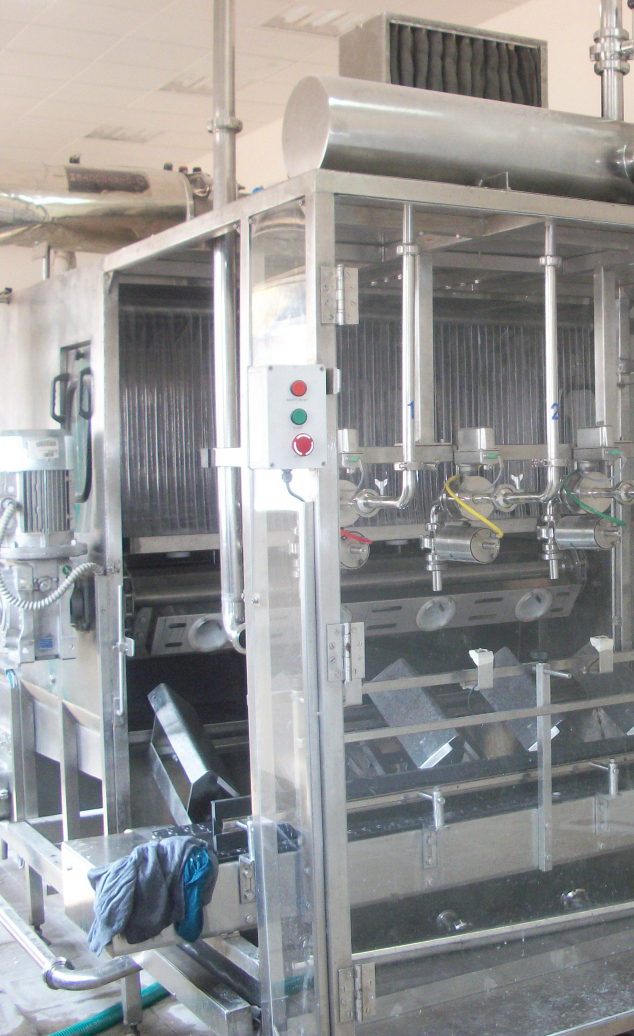 Silent Features of Jar Filler Machine
Hilden provides best Automatic Jar Filling Machine at Best Price in India which have following features :
Single wide up to ten wide machines
Multiple jetting cycles, like hot wash, chemical and product
water wash
Automatic loading and discharge
Multiple use of water before draining
External brushes can be provided with external jets
Filling can be time based or by a flow meter
Can dispensing automatic, pressing either by pneumatic cylinder or powered slat chain
Easy maintenance and servicing
SMART20 LITER JAR- 20 Liter Automatic Jar Filling Machine

NO.
Specification
1
NO OF HEADS
1 TO 12
2
DIMENSION
DEPENDS ON CAPACITY
3
MAT. OF CONSTRUCTION
304 BODY
4
PRODUCT CONTACT PARTS
304 / 316 (OPTION)
5
AIR CONSUMPTION
4 BAR – 5 CFM
6
POWER RATING
8 KW
7
HEATING
ELECTRICAL OR STREAM
8
TIME PER JET
25 SEC.
9
JETTING
HOT, COLD, CHEMICAL AND OR COMBINATION
Function of Automatic Jar Filler Machine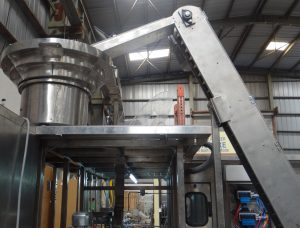 New or dirty jars are automatically loaded into the machine, which are thoroughly washed by a series of internal and external jets. After washing the jars are discharged onto the conveyor, are filled and subsequently capped. The Jar Filler Machine is constructed completely of stainless steel 304 with product contact parts of 316 if opted for. In the case of very dirty jars a pre wash stand alone machine is provided with powerful jets, external brushes and a spray ball for internal wash.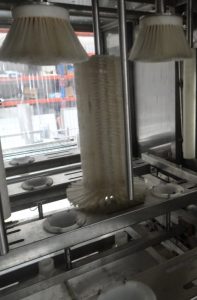 Jars are conveyed to the washer, counted stopped and gently fed to the pocket carrier that carries the inverted jars through the machine. A series of jets from different tanks scrub the inside and the out side of the jars , subjecting them to hot, chemical and fresh water wash cycles. Provision is made for draining between different washes. The final fresh water is re-circulated and used thrice before being drained. The jars are then re-inverted and slowly discharged onto to the conveyor from where they go for filling, either in a straight line in a rotary filler, which is either time based or by an electronic magnetic flow meter. The fills jar picks up the cap and which is pressed on either by a pneumatic cylinder or by a powered slat chain conveyor. Filters are provided at the suction of each pump.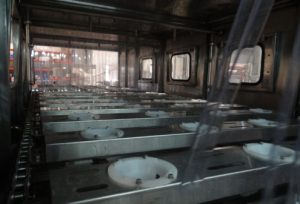 Safety for Jar Filler Machine : The main geared motor is indexed by a timer. All sequences for the loading and discharge are interlocked and programmed through the PLC. Safeties are provided for a smooth trouble free operation.