India
Call us: +91-22 4333 3200 / 01 / 02
hilden.info@gmail.com
Marol MIDC Industry Estate, Andheri East, Mumbai,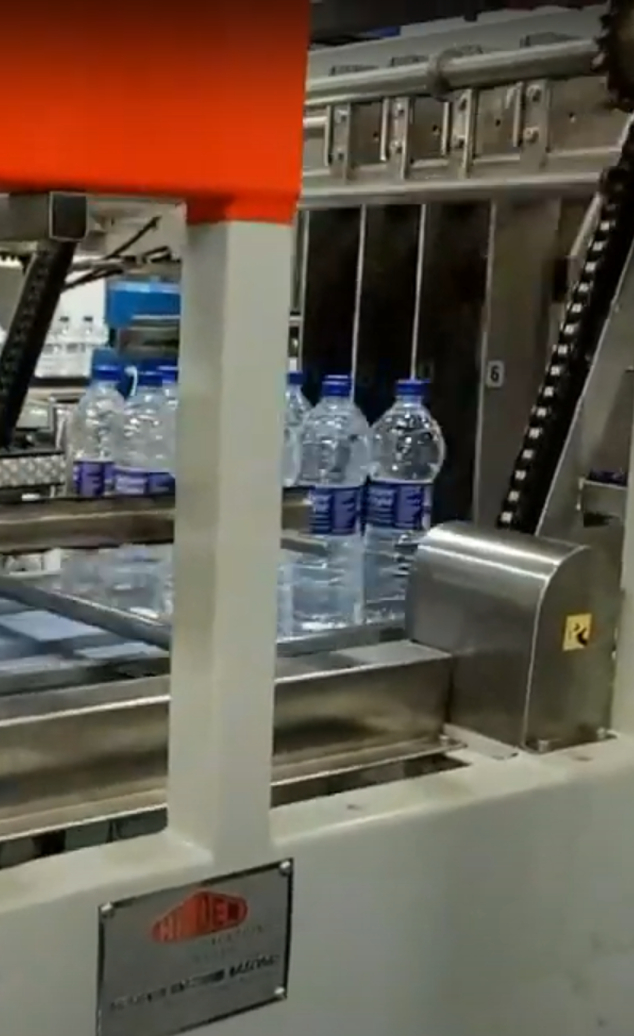 Continuous operating machine
Single film single joint
Wide seal better strength
Positive feed of film and positive cutting
Printed film can be used
Filling can be time based or by a flow meter
Option of base board
Guards with interlocks and safeties
All controls from the MM!
Energy efficient oven with directed air flow
PLC and servo controls ensure smooth operation.
FUZZPACK
NO.
Specification
1
CAPACITY
20 TO 30 PACKS PER MIN.
2
PACKING
SINGLE SHEET AND
3
TRAY OPTION
YES
4
POWER RATING
60 KW
5
AIR CONSUMPTION
4 BAR – 5 CFM
6
CUTTER
SERVO
7
SHRINK TUNNEL
ELECTRIC HEATER
8
COLLATOR
PNEUMATIC
9
SHUFFLER
ELECTRO VIBRIO
9
DIMENSION
10 MTS X 2 MTS X 2.5 MTS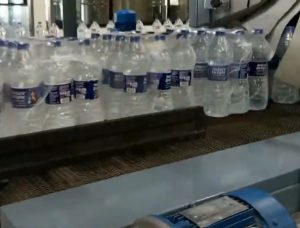 Bottles enter the machine on a multi chain conveyor, they are collated to the required matrix. A base corrugated board can be positioned below the bottles for additional stability. Film from a roll is cut, fed, and over wrap the bottles, forming a broad overlap strong joint at the base. The entire pack is shrunk tight in an oven, cooled and ready for palletizing.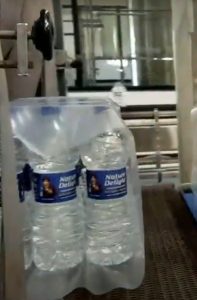 Bottles from the labeler are marshaled into guide plates by the shuffler. A matrix is formed. A fly bar combines the matrix together more tightly. A corrugated board is fed from below by a belt and vacuum assembly from and indexing conveyor. A power unwind roller feeds the film, which is cut and fed of to the right length via a vacuum belt assembly. Film is synchronize with the moving pack by two servo motors. Second fly bar overwraps the film and closing the pack of bottles.
An efficient heat shrink tunnel ensures a uniform shrinkage and a perfect seal at the base, with accurate temperature control and precisely directed air flow.
All function can be controlled from the MMI. Some parameter that can be set from the touch screen. Error message can be read of the screen. Different recipes can be store in the PLC. All doors are provided with limit switches and interlocks. PID control of heating insure effective and power saving tunnel. No bottle, no carton, no film.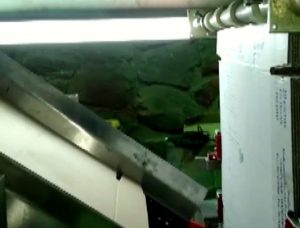 To increase stability of the pack while palletizing and stacking, an option of a corrugated base board is possible. Base boards are stacked vertically on a slat chain conveyor. A crank oscillating arm, from the main drive shaft, with vacuum cups mounted on it, swiftly pick up the board and places it on an incline dog chain conveyor. The dog chain is synchronized positioned below the bottle matrix. A sensor checks if the carton is present, if not it raises an alarm. Another sensor actuates the air cylinder when board starvation occurs, It indexes the conveyor through a single direction clutch, Till the starvation single turn off.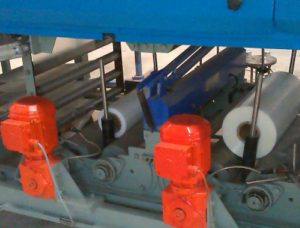 Two rolls of film can be loaded into the machine. The film path includes a series of pneumatically actuated rollers that provides the right tension to the film. Unwinding of the roll is by powered rollers, the starting and stopping of which is done by proximity sensors. Guides prevent the roll from lateral movement. At the end of the roll the next roll can be joined by a heat sealing band heater. A static eliminator ensures the film has a neutral charge prior to entering the cutter, and transfers smoothly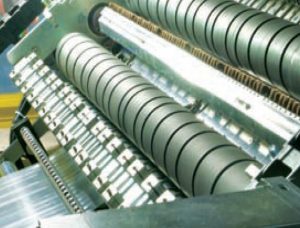 The film is cut by a non contact servo driven roller. This design ensures a very long life for the cutting blade. The cutter blade is a saw toothed, hardened steel blade that can be reground to sharpen again. The cutter blade and film support rollers are synchronized by gears. Film after being cut to the right length is fed to the vacuum assisted toothed belt drive and positively time up with the bottles. When printed film are use cutting is referenced from the print mark