India
Call us: +91-22 4333 3200 / 01 / 02
hilden.info@gmail.com
Marol MIDC Industry Estate, Andheri East, Mumbai,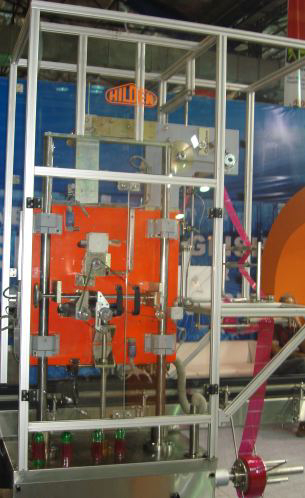 The machine can run sleeves in roll form and is capable of applying full body sleeve or a sleeve at a particular location on the bottle. This can be done by a specially designed attachment.
The steam tunnel comes immediately after the sleeving machine, which shrinks the label perfectly onto the bottle taking the shape of the container without any creases. Steam is controlled economically by
controlled valves and can be directed at the label precisely. Another option is a hot air system where steam is not available.
Machine is well guarded with interlocking door safeties.
Interactive intelligence by means of a huge TFT Colour touch screen with all necessary alerts via real time clock & trouble shooting information.
SMARTLABEL - HOTGLUE - REEL FED LABELLERS (versatile machine with multimodel option)
NO.
MODEL
BOTTLE SHAPE
DESCRIPTION
SPEED
1
SLEEVER120
ROUND/FLAT
1 SERVO AXIS CAN HANDLE FLAT/ROUND SHAPES BOTTLES.
120 BPM
2
SLEEVER 200
ROUND/FLAT
2 SERVO AXIS ONE FOR CUTTER OTHER FOR SLEEVE INDEXING
200 BPM
3
SLEEVER300
ROUND/FLAT
3 SERVO AXIS FOR CUTTER,SLEEVE INDEXING & UNWIND
300 BPM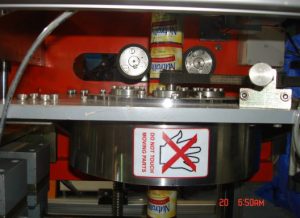 The cutter is a very simple mechanism with 5/6/8 blades, these stainless steel blades are specially made for this application. The blades cut in a overlapping rotary action , which is driven by a servo motor. This is a change part depending on the range of Bottle diameters.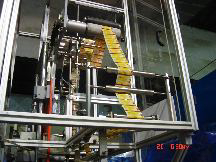 The sleeve unwind and tension control is done by means of idler and dancing roller which maintains the web tension, the high/low position of the dancing roller decides the label feed.
The mandrill is the most complex part of this machine. The sleeve is opened by this floating mandrill which has idle bearings to assists to drive the cut label onto the bottle by means of dual high speed motors. Mandrill is a change part for different bottle sizes.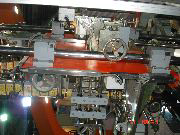 The machine setting for the mandrill support rollers, and sleeve drive Rubber rollers are to be set for different sizes of bottles and labels, this is done very quickly by means of simple handwheel with ball guide screw, and LM linear bearings, this can be done within a few seconds thus making the change overs very easy and quick .Print mark sensor position is marked for different bottles. All other settings are from the control panel.