India
Call us: +91-22 4333 3200 / 01 / 02
hilden.info@gmail.com
Marol MIDC Industry Estate, Andheri East, Mumbai,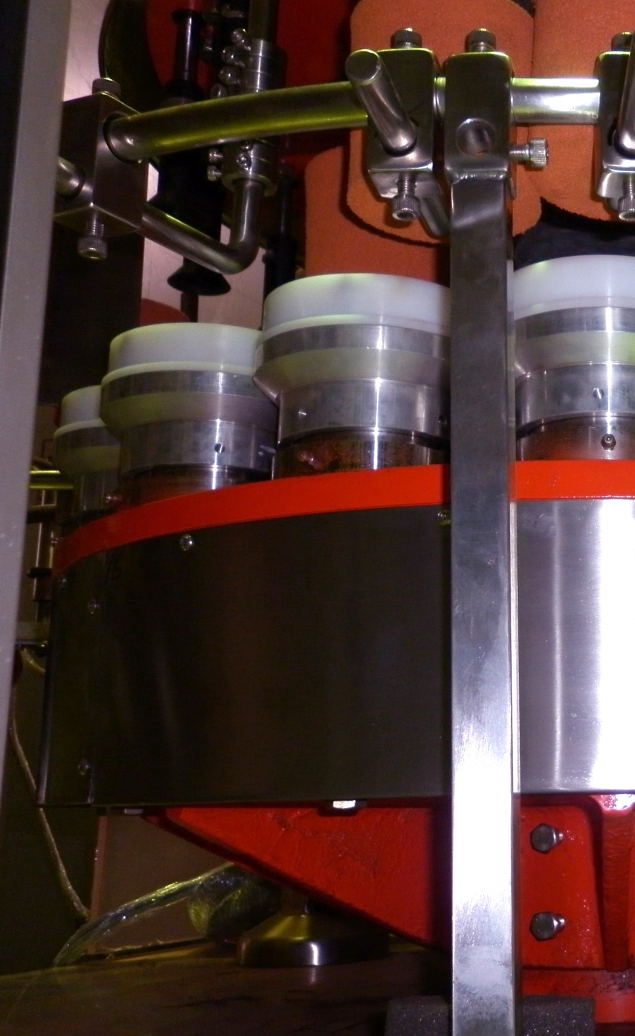 Multi – Location Labeling is possible on single bottle in reference to the groove at the base of the bottle
Each label is precisely positioned in tight tolerance by a server belt
Each label head can be moved in three axis to accommodate the profile of bottle
The bottle is rotated by a precision cam and sector drive
assembly
The Machine can accommodate a wide variety of bottle sizes of the same profile
Easy change over enhances production efficiency with position indicator and retrieval from the menu
All control operate from the MMI and it's easily settable
LABELER-MULTIHEAD
NO.
Specification
1
NO OF HEADS
12, 16, 24
2
MAXIMUM NO OF LABELS
4
3
SPEED OF MACHINE
120 to 300 BPM
4
POWER CONSUMPTION
5 KW - 3 PHASE
5
DIMENSION OF MACHINE
2400MM X 3000MM X 2200 MM
6
TYPE OF BOTTLES
ROUND / SQUARE / GLASS
7
OPERATING HEIGHT
900 MM
8
AIR CONSUMPTION
0.5 CFM @ 4 bar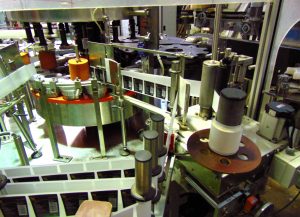 Multi Head labeller with location specific labelling in reference to embossing on the glass container. The bottle is clamped and rotated 370 degrees to engage the notch at the base of the bottle. The bottle is further rotated to the precise position where the servo drive rollers dispenses the label at the right locations in a smooth continues operation. The bottle is further rotated to accommodate other labels.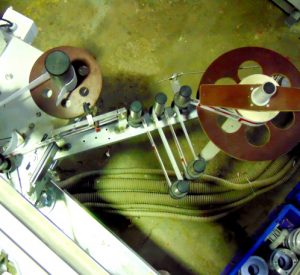 On sensing the bottle, the servo drive dispenses the label at the right speed after which a massage roller and brush firmly fixed the label. The label head can be positioned in three axis by a screw jack assembly and a tilting device, to match the contour of the bottle. The position of each label can be set from the MMI accurately. The screw jack has position indicators.
Operation and change overs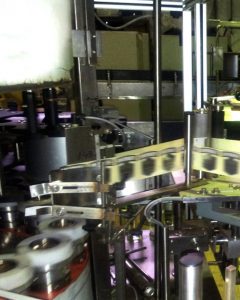 Bottles enter the machine and are spaced out by a feed worm, they are then clamped from the top. A roller /cam assembly, rotates the bottle to engage the bottom base notch. The bottle is rotated in the right direction at the right speed to pick up the dispensed label. After labeling the bottle is released to the conveyor via a an outfeed star wheel.
Change over are simple, user friendly and quick. Feed worm, infeed, out feed star wheels and bottle platforms have to be changed physically. All other setting are from the MMI for label control, Raising and lowering of the top clapping head for taller bottles is from the control panel. Individual heads are set by hand wheels and position indicators.