India
Call us: +91-22 4333 3200 / 01 / 02
hilden.info@gmail.com
Marol MIDC Industry Estate, Andheri East, Mumbai,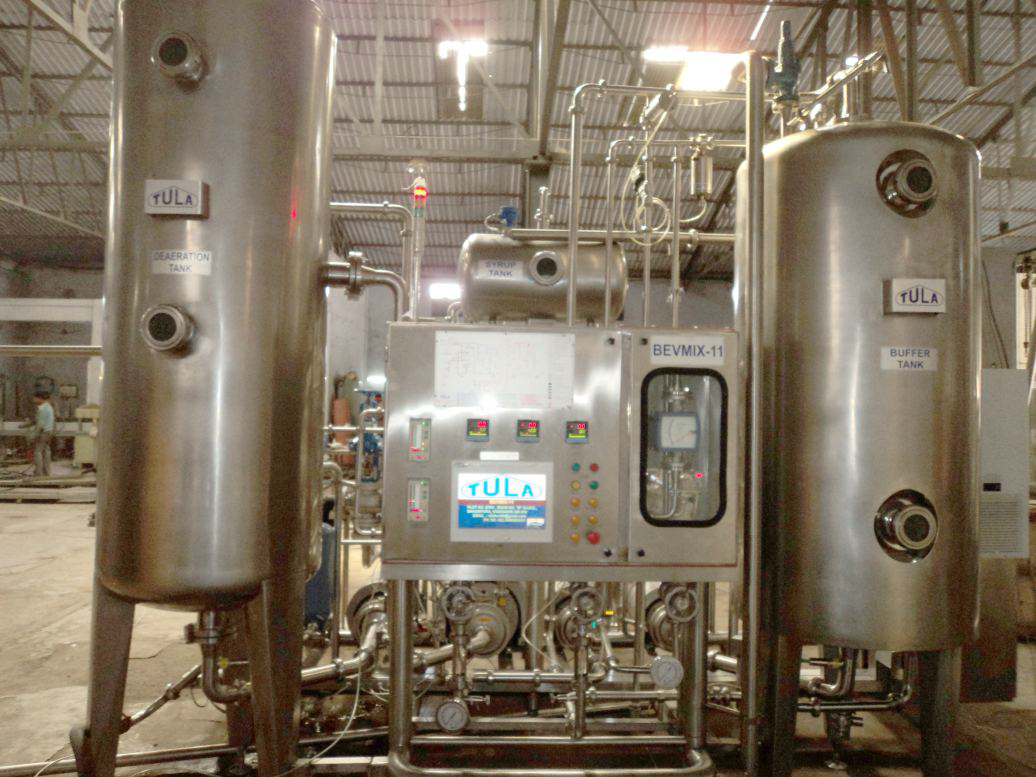 Pumps are sanitary, of stainless steel and sourced from Alfa –Laval
Pipes And Pipe Fitting With High Quality (< 3 Ra) From Alfa Laval / Idmc.
Electronic Controls-plc From Ge Fanuc Touch Screen Colour Tft 12.5 Inch Diagonal With High Graphic Resolutiuon Display From Exor Italy.
Flow Meters ,probes From E & H – Germany
Pipes Joints with high welding quality by means of automatic orbital welding machines. Main mixing pump From Alfa Laval Germany.
PHE from Alfa Laval / Idmc
Maximum Mixing ratio 1:3 (syrup : water)
Brix accuracy: +/- 0.05 Deg.
Maximum carbonation: 11 grams / ltr.
Carbonation accuracy: +/- 0.1 GV
De aeration efficiency: 75% Beverage
Temperature: 1 Deg. C @ incoming water temp. 35 deg. C.
Temperature accuracy: +/- 1 deg. C.
Beverage temp. drop: Max. 1 Deg. C. / 10 min. storage
CIP flow: 10% higher than rated mixer capacity
MODELS OF BEVMIX
Bev Mix – 8 (Max. beverage output: 8 KL / Hr.)
Bev Mix – 11 (Max. beverage output: 11 KL / Hr.)
Bev Mix – 15 (Max. beverage output: 15 KL / Hr.)
Bev Mix – 18 (Max. beverage output: 18 KL / Hr.)
Bev Mix – 24 (Max. beverage output: 24 KL / Hr.)
Bev Mix – 28 (Max. beverage output: 28 KL / Hr.)

Mixing De aerated water with syrup by flow measurement method.
Inductive flow meters are used to measure the flow with high accuracy.
Syrup flow is controlled with pneumatic proportional valve.
Mixing ratio and flow can be changed online.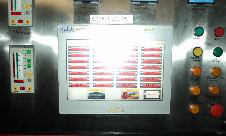 Removes air from the incoming treated water to keep the beverage dissolved oxygen (DO) level down.
The de aeration is done with vacuum as well as with forced CO2 metho
2 stage SS water tank with continuous water circulation under vacuum condition for De aeration.
Water ring type vacuum pump is used to create vacuum.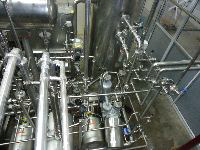 The CO2 is mixed in chilled beverage by online venturi system by measuring CO2 flow. The CO2 is controlled by manual vernier graded valve.
The option of tank carbonation is also possible for carbonation.