India
Call us: +91-22 4333 3200 / 01 / 02
hilden.info@gmail.com
Marol MIDC Industry Estate, Andheri East, Mumbai,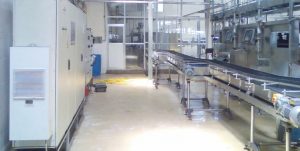 All Plastic moulded Components, chains and Bearing with Housings are from Marbett, MCC, Rexnord
Stainless Steel 304 With Sticker coated mat finish is sourced from Jindal to get extremely good aesthetic appearance to the whole line
Air/Chain/Case Conveyors are Modular in design thus can be quickly assembled on site with great flexibility
Introducing the new Air/Chain conveyors incorporating the latest design of square pipe Rigid cross structure truss member, with multiple rows which can sustain heavy loads
Automation of the full line is done keeping the Filler as the master. The complete line has numerous sensors to detect the bottle's linear speed, which can be programmed to achieve maximum line efficiency, by a very experienced in house programming team
We provide an option of multiple Heppa filters in our Air conveyors for extremely high hygienic class of Air Requirement
Electrical components from world class manufacturers line Danfoss, Pheonix, Telemechanique, Exor, GE Fanuc, Lapp Kapell wires, Rittal Panels & A/C are used
An option of Multiple slat chain conveyors and pressure less combiner's and accumulators for very compact plants
Layouts can be planned as per your building design to optimize performance with sufficient buffer time and high efficiency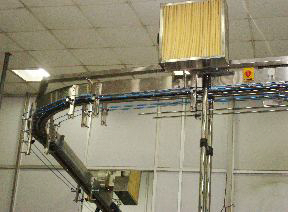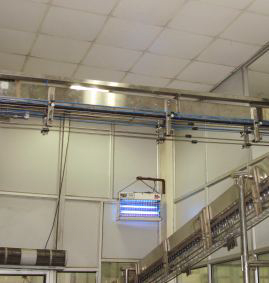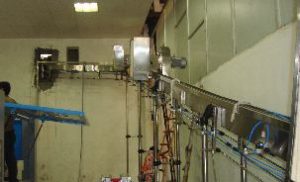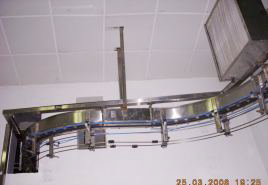 The Air conveyor design is very unique as the bottle gets pushed by very small multiple louvers. These Louvers are designed such that the high pressure air coming from a series of blowers above the air conveyor section strikes the bottle much below the mouth thus no air enters inside the bottle mouth, hence bottles are transfer red very smoothly, eliminating bottle contamination. The Neck guide liners are specially imported from MCC and have a very long life. Bottles are directly picked up from the blowing machine into the air conveyor. The air conveyors can be mounted at ground level or hung from the ceiling, saving vital ground space. Depending on the bottle diameter the guides can be set remotely from a single point by pneumatic actuation.These conveyors are extremely easy to install as they are modular sections.
Chain / Case Carton Conveyors
The Bottle Chain conveyors too have an extremely Modular design and can handle glass as well as plastic bottles. These conveyors can be in 1-28 rows, and a system like Pressure less Combiner can combine multirow bottles very smoothly into a single line without any bottle scuffing. Automation standards for these conveyors are intelligently designed. The Crate/Carton conveyors may be in a roller form or slat Stainless steel chain or modular plastic chain, that can be hundreds of meters long to convey empties from the godown and send filled cases back to the filled product godown.