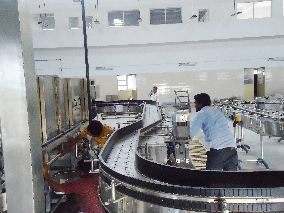 Submerged Scraper Conveyors (SSC) are commonly used to remove ash from big power stations' coal-fired boilers. They usually employ a two-chain conveying system, with a driving station that uses sprockets (toothed or pocket wheel type) and a chain guided by intermediate and reverse wheels that follows the path required for carrying bulk material. The ends of the chain are many meters long.
They're made with extraordinary accuracy (length tolerance in each pair is no more than 0.05 percent) and coupled together with unique couplings; scraping elements are attached directly to the chain using specific fittings. Improve the handling of ash or slag following your boiler or kiln's combustion operation. Our Submerged Scraper Chain Conveyor (SSCC) uses established technology to remove and cool the ash and slag produced in a smooth and efficient manner. This dependable technology has proven to withstand temperatures of up to 1,000° C (1,832° F) during feeding.
Ash and slag transport with a submerged scraper chain conveyor
Submerged Scraper Chain Conveyors are designed to extinguish, cool, and transfer ash, slag, and other combustion remnants in a dust-free manner. Their gas-tight design prevents vapors and particles from escaping while also successfully blocking the entry of outside air, which can disrupt combustion operations.
The material enters the enclosed trough via a water-filled conveyor compartment, where it is extinguished, cooled, and moved via a drag chain conveyor for complete dust- and vapor-proof handling. Swimming materials (upper-strand carrying) and sinking materials are both acceptable for submerged scraper conveyors (lower-strand conveying). Our SSCCs may simply be integrated into existing systems due to their self-supporting structure, needing minimal space.
Read More : What Is Pneumatic Conveying System And Its Application
Combustible material handling that is safe and reliable
High level of dependability
Our Submerged Scraper Chain Conveyor systems may run unattended for up to 24 hours, 7 days a week. Wear is reduced by operating at a constant speed.
Minimal water usage
As it departs the trough, the conveyor inclines, helping to dewater the material and enabling water reuse.
Free of dust and vapors
The gas-tight design prevents the escape of vapors and dust while also efficiently inhibiting the entrance of outside air that could interfere with the combustion process, assuring the boilers' reliable and continuous operation.
Aspects of Design
Chain tensioning unit that works automatically:
The tension of the SSC chain is automatically controlled using a device that uses an oil/inert gas differential. This fully automated system accurately tensions the chain under all load circumstances. It can send data back to the PLC in the control center for visual or aural notification.
Hydraulic power pack and drive:
We generally configure dual motors to make use of the inherent torque characteristics of this technology, providing exceptional start-up performance and greater flexibility under upset circumstances.
Chain of transmission:
We use three types of sprockets and chain wheels with our unique heavy strength case hardened round link chain to suit the SSC's demanding demands.
Submerged Scraper Chain Conveyor – designed to last a long time.
 We use our Type V vertical arrangement, which enables for conveying up high inclines (typical operation is at 45°) and is built with our renowned Drag Chain Conveyors. Dust-proof, water-tight, and pressure-tight are all features of our SSCCs.
Our Drag Chain Conveyor, which is at the heart of the SSCC, has drop-forged links with the welding lug built into the forged piece. We use a specific flash-butt welding procedure to secure the flights to the lug, which prevents them from breaking off. The conveyor chains' functionality and tensile strength provide excellent availability and long service life. Flights come in a variety of shapes and sizes to fit your material and purpose.